Top Stunning Girlish Gowns for Little Diva!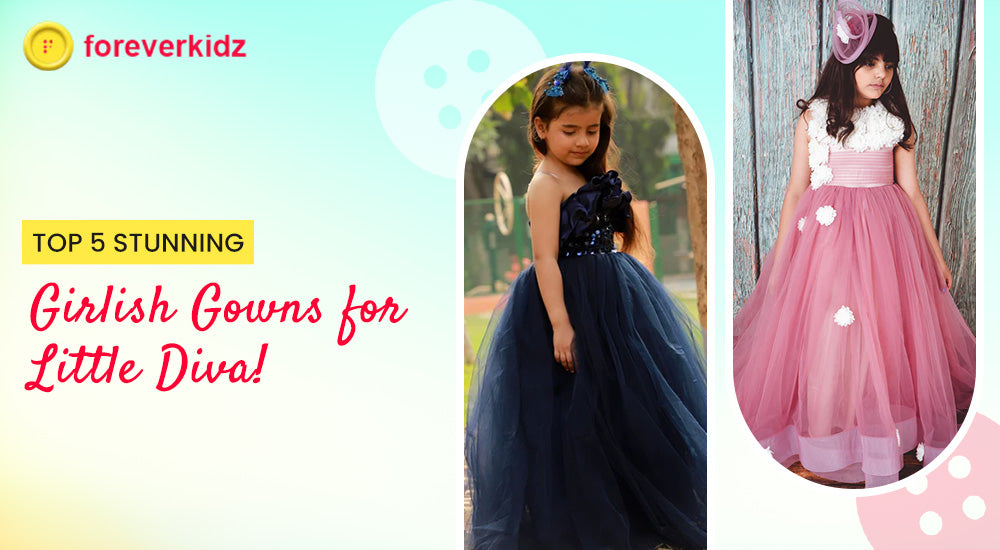 Looking just cute can be boring sometimes. Every now and again, you just need something more that goes beyond. These 5 stunning gowns are sure to have what you're looking for, allowing you to unleash the gorgeous diva who slumbers within your little angel. Turn your princess into a bombshell and awaken her inner diva with amazing gowns from ForeverKidz: 
Raspberry Crush Bow Gown
Raspberry Colour could be associated with certain emotions or moods, such as happiness, excitement, or playfulness. It features: 
● A Floor Length Gown of Soft Taffeta Silk
● Big bow gown in hot pink Colour
● Hot pink is a bold and vibrant color to make a statement
● Big Bow infront adds the feminine touch
● Best for pretty ballerina look
English Garden Organza Gown
Floral gown can be a great choice for a little girl who wants to feel pretty, feminine, and playful. Here's what the major features of this dress:
● Beautiful Lengthy Organza Gown
● Classic Floral Patterns for a pretty look
● Flower embellishment in the neckline
● Match with the Head Bow for ballerina touch
Lavender Kiss Ruffled Gown 
Your little fashionista will certainly look like a diva strutting around with this garment's huge bell design. Here's what's so great about the outfit: 
● Huge hem ruffles that make it a perfect ball gown
● Beautiful Floral prints that enrich the white
● Mesh top that adds a sassy vibe to the look
● Adorable satin belt with a striking blue shade
● Add attitude to this outfit with a head fascinator/clip
Parisian Beauty Gown 
Being a diva is all about setting the trends. The Parisians Beauty Gown is one way to do it, and it comes with impressive detailing such as:
● Huge shoulder bow that makes a big fashion statement 
● Elegant jacquard gown with a slit that oozes elegance
● Rich floral prints that add a classical style to the outfit
● Glossy wine-red backdrop with a chic black top
● Puffy sleeves that give the gown more character
Midnight Shimmer Ruffled Ball Gown 
This floor-length tutu dress demands attention in the most unapologetic way. It is a monochromatic work of art that features: 
● Dramatic neckline ruffles for an extra wow-factor
● Sparkly top that steals the spot line
● Off-shoulder design with transparent straps
● A sequin adorned bodice that's eye-catching
● A stretch back that provides a custom fit
Rosewood Dream Party Gown
Make your sweetheart's diva dreams come true with the Rosewood Dream Party Gown, a wonderful outfit with the following highlights: 
● Gorgeous flower patterns that drip to the bottom
● Fabulous netting that cascades into a vivid base
● Stripped top that beautifully completes the gown
● Crinoline fluff for a dramatic, diva touch
● Cotton underskirt and soft tulle
Freedom & Beauty lies in Being Bold!
Being a diva is all about embracing your personality and not being afraid to be bold, different, and adventurous. These stunning girlish gowns will help your little diva set the world ablaze and finally get the attention she rightfully deserves. Check out these fabulous dresses on the Forever Kidz store.