Best Ways to Celebrate Siblings Love This Festival
The Best Way to Celebrate Sibling Love in a Stylish Way
Raksha Bandhan, the special India festival marking the mischievous relationship between brothers and sisters, is around the corner. It's that time of year when sisters tie a sacred thread, known as 'rakhi' around the wrist of their brothers to epitomize love, protection and an everlasting bond. As the festival approaches, it's not just about the traditions but also the delight of adorning in Raksha Bandhan Dress for Sister.
Let's look at these Raksha Bandhan Outfit Ideas that combine tradition and modernity.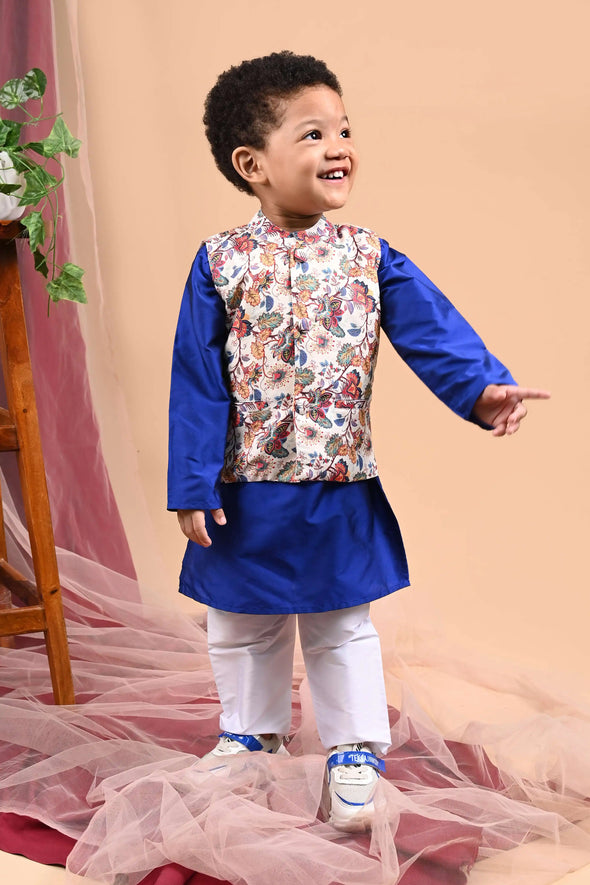 The Best Raksha Bandhan Outfit Ideas for Kids
While Raksha Bandhan is rooted in tradition, it doesn't mean you can't put your own unique style in your attire. Imagine wearing ethnic wear that captures the heart of the event while fusing modern touch. Choose ForeverKidz's Little Melodies Kurta Set with Jacket to have children grooving into something new regarding holiday attire!
For boys, the contemporary design includes a stunning kurta set with a jacket so they celebrate in style. The ideal ensemble for looking dapper at festive events. Why should girls have all the fun with dressing?
Dress up your little superhero with this fantastic ethnic wear.
Bright Colours & Playful Prints
Raksha Bandhan is a colourful and traditional Hindu annual rite. The enthusiasm and zeal of this festivity reflect on your kid's attire. Choose and gift Raksha Bandhan Dress for Sister, such as trendy wine, grey and golden print, or a vibrant printed Pathani set. These patterns offer an artistic edge to your outfit, making it a great discussion starter at the party.
Elegance and Comfort Go Hand in Hand
While looks are important, comfort should always be noticed, especially during festive events that feature traditions, family gatherings, and laughing. Choose Raksha Bandhan Dress for Sister that is elegant and allows her to move freely. Silk, cotton mixes, and chiffon fabrics balance comfort and style. Your kid will be able to enjoy the celebrations without worrying about wearing sophisticated attire.
Make Your Look More Graceful with Accessories
Accessories can transform an average Raksha Bandhan costume into something spectacular. Choose striking accessories that match your outfit. A pair of jhumkas (traditional Indian earrings) or a bold necklace may lend a touch of shine to your daughter's look. Our little superheroes can add a touch of refinement to their attire by wearing a classic watch, a smart pocket square, or a brooch.
Remember that the smallest things may have the greatest influence.
Celebrate the Bond in Style
As Raksha Bandhan is around the corner, keep in mind that your kid's attire is more than simply a reflection of your relationship with your siblings. Embrace tradition with a modern twist, experiment with colours and designs, coordinate with your siblings, focus on comfort, accessorize with care, and don't be afraid of fusion fashion. Allow your baby's attire to show individuality while recognizing a wonderful bond with their sibling or sister.
In conclusion, Raksha Bandhan is not just a festival; it's an emotion. And what better way to express that sentiment than through fashion language? Dressing up for this occasion combines tradition and creation, celebrating the past while welcoming the future. So, when you set out to find the perfect Raksha Bandhan attire, remember to aromatize it with your personality, turning it into a celebration of style, love, and siblinghood.