Love is in the Air: How to dress up your Kid in the month of love?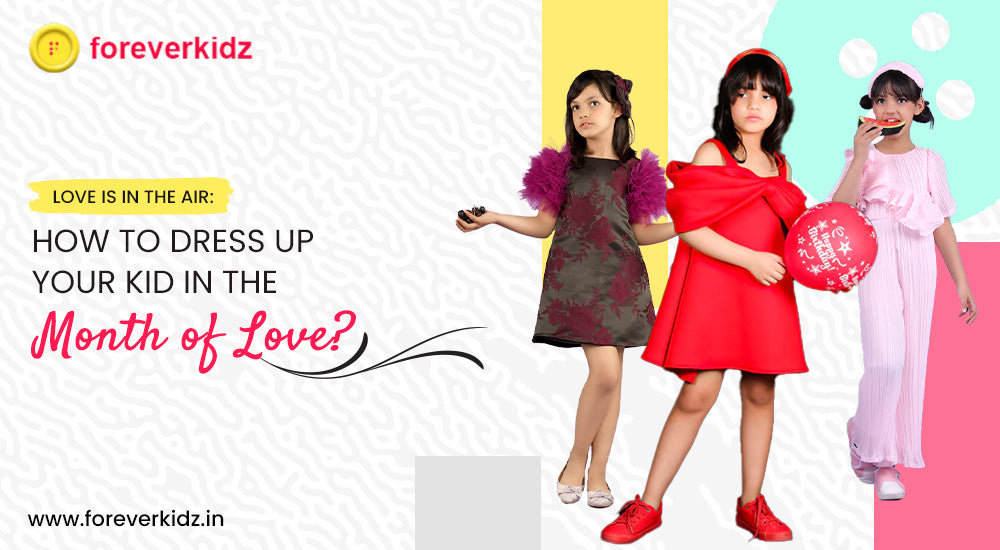 The month of love is now firmly in our sights, and that means it's time to start racking up our brains over the best gifts for our loved ones. So what would make a perfect present for your little sweetheart? If you're coming up empty on ideas for your most precious person, we have just the thing: a strategic selection of clothes that are just the perfect embodiment of love. These outfits are an excellent way to show your little ones that they are loved. Not to mention they look undeniably adorable so much so that your angel will be the envy of her peers: 
Red Carpet dress
Red has become the epitome of love, as far as colors for this special love month are concerned. The Red Carpet dress matches the occasion with its deep crimson hues that will get your little one in line with the spirit of the season.
This monotone scuba fabric dress makes for the eye candy if you're eyeing to make an impression at a party, and is a cute outfit that's right atop our showstopper collection. 
• Here's why it'd made a great choice for the month of love!
• The monochrome shade goes superbly with just about any range of accessory colors
• Resistance neoprene fabric composition that provides longevity
Gorgeous off-the-shoulder design that completes a princess look
Add a touch of extra-special to your loved one's look with the Red Carpet dress which is enjoying a huge discount over at ForeverKidz. 

Bubblegum Smoothie Jumpsuit
Bubblegum Pink Smoothie dress could be a great choice for small girls during this Love month, as it is a fun and playful color that can symbolize love, sweetness, and affection.
Here are some ideas on how to style and accessorize the dress to create a love-themed outfit:
• Pink and red color scheme: Pair the Bubblegum Pink Smoothies dress with other pink and red accessories, such as a pink headband, or pink shoes.
• These colors are often associated with love and passion and can create a cohesive and cute look.
Crinkle Jumpsuit with ruffles in front would be a perfect love-themed dress when associated with the Lovely hairstyle. 
Raspberry Crush Bow Gown 
Raspberry is a soft and romantic color, often associated with love and affection. The color is warm and bright, making it perfect for little girls to wear during the Love theme. The bow detailing on the gown adds a cute and playful touch to the dress. It can represent a gift or a sweet gesture. 
• Made of premium taffeta silk fabric, which makes your lil one feel pleasant.
• The raspberry bow gown is versatile and can be styled in different ways. 
The raspberry fruit is a rich shade of pink or red, which can be translated into fashion designs, and is a popular color for romantic and special occasion dresses.
Little Love Set
Of course, we can never forget your little man of the house as well! Turn your dashing prince into elegant royalty with the Little Love Set, a classy outfit for the stylish little gentleman within. Its rosy color scheme offers an excellent nod to the season and is the formal wear you need if you have something fancy planned out. 
Fit for a star, the Little Love Set is an attention-stealer that combines grace and style into a four-tiered pairing. Here's why this outfit will light up your little bud's Lovely Look!
• Cute bowtie that captures a modern, minimalist style
• The adorable half-coat brings out the best of its white shirt base
• Cotton blend, wrinkle-free design to ensure your prince is always looking sharp 
Nothing quite says when it comes to boys' wear like the Little Love Set.
Berry Glam Tail Dress
The color of the dress is a rich berry hue that is often associated with romance, love, and passion. It is a warm and inviting color that can evoke feelings of love and affection, making it a fitting choice for the month of Love. 
The flowing tail adds a touch of drama, which can make little girls feel extra special and glamorous. Well, it impresses with its: 
• The alluring Bow on the front adds an elegant look to your Lil girl
• Gorgeous, complimentary hair accessory to keep the style going all the way up
It certainly makes for a lovely fashion statement for your beloved kid.
Shizuka Love Dress
What is the best color to denote love? Pink, white, and red frequently feature among trademark traditional hues for the month of love, and we have yet another awesome option for you along those lines. Feast your eyes on the Shizuka Love Dress.
Shizuka is a Japanese word that encompasses beauty and serenity, and that's exactly what you get with this outfit. Your little diva will steal the show as she rocks this long-sleeve beauty that strikes a nice balance between grace and simplicity. 
Here's what else makes the Shizuka Love Dress a cut above the rest: 
• Rich scuba fabric with an alluringly contrasting top and dress 
• Plain white collar and knot detailing to further uplift the style
• Nice pink & blue coexistence that fuels a vibrant design  
Share the love with your princess this month with the Shizuka Love Dress, which makes for a heartfelt gift your little one will treasure for ages. 
We toast to your family's happiness on one of the biggest days of the year as you come together to celebrate and renew the strength of your bonds. Compiled with boundless love and timeless style, we hope these super cute outfits will put a smile on your angel's face and make for their most memorable present yet.