5 Things to keep in mind when buying party dresses for baby girls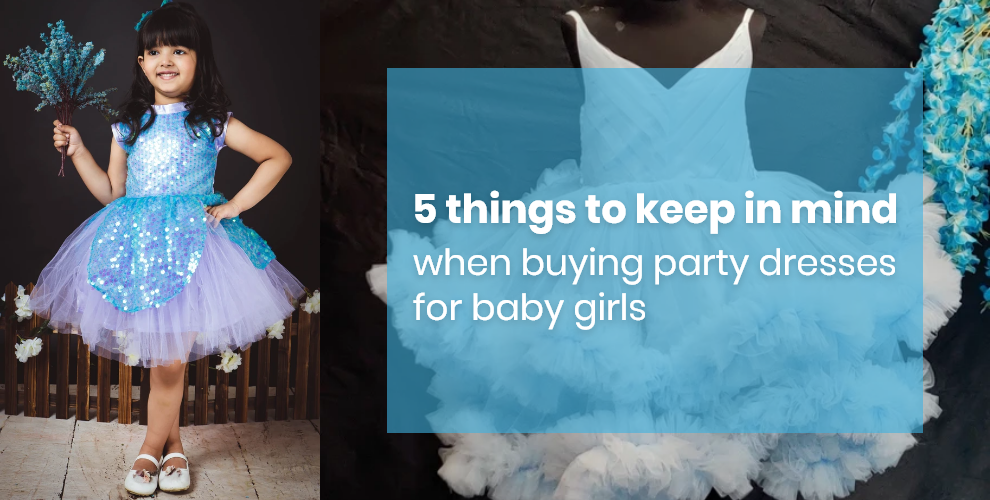 It is every parent's dream to doll up their baby girl in an outfit that compliments all the cuteness overload. However, as a parent you need to keep in mind certain things while buying an appropriate party dress for your little munchkin. Your little one deserves nothing less than perfection to add to the bling of their personality and parents have a hard time picking the right outfit to match what they desire. Your tiring schedule may not leave you with time to search for the best dress and you might end up being dissatisfied with your shopping. Therefore it becomes necessary to dig deeper into the important points and get your full satisfaction rather than buying anything at an impulse for your child. Following are the five essential and unskippable things to keep in mind while selecting any party dress for your little girl:
The occasion
The occasion is the foremost deciding factor for buying a party dress, be it for a child or an adult. Most of us do special shopping for occasions, other than the usual clothes we wear because every event is unique.Though a child looks cute in every style, a dress particularly in line with the occasion will be an additional cherry on the cake. A casual birthday party or a family dinner calls for a western or fusion outfit, but for traditional festivals or wedding parties going for ethnic dresses will make your child stand out and shine like a star.
2.
The Size

Most kids' dresses come in standard sizes according to age group to guide you if you are unsure of the size that will fit your baby well. However, an exact size and trial is necessary because every child differs in build and height. A dress with a precise length and good fit will enhance the personality of your kid and also make her feel comfortable carrying it. It is best advised to always buy a party dress at a date near to the occasion to avoid any size related problems. A nicely fitted dress will provide a relaxed and comfortable movement to the child while a tighter or a shorter one is bound to bring trouble.
Style and cuts
Going for new and modern cuts and styles or fusion wear which is a mix of two cultures is the best way to shop for your little princess. Experimenting with various sleeve styles, collars, necklines, one off shoulders, high low hem, layers, ruffles, big and striking embellishments, etc. will give our child's wardrobe a completely unique touch and the style will speak for itself in the form of compliments you will get for dressing her. Your little girl will look cute in each and every style and cuts, because kids are the purest form of beauty and outfits just enhance them even better.
The ongoing trends 
The trends for kidswear fashion keep changing similar to that of adults. So your choice of dress should be aligned with the current trends. For a religious ceremony or a wedding party, the evergreen ethnic and traditional outfits include salwar suit, shararas, lehengas, sarees, etc. while in western outfits new trends and styles keep coming and going. Go for outfits that are all time stylish and elegant and best serve the purpose of the occasion. You can google the latest trends in kidswear to find out which one will look the best on your kids, but remember that not every trend will be appropriate for your kid and it's advisable to choose the one that compliments her personality.
Price Range 
Last but not the least, cost is the most crucial requisite one looks into. With differential budget needs and requirements in mind, we offer dresses in every price range so that there is something for everyone. We ensure that the cost you pay for purchasing with us will be worth it when you look at our collection and will be worth even more when your little girl walks down looking like a diva in that dress of your choice.
Considering so many things while buying a party attire may be a tedious job, but we make sure that your child gets the best and at Foreverkidz we provide you the best options of party dresses for baby girls online and make sure to meet all these standards of dress making so that your trust in us always remains intact.