---
There is beauty in simplicity. When it comes to kid's fashion, there's no need to be overly glamorous or over the top. Fashion can still be stylish yet simple. It can be straightforward but more elegant than ever. ForverKidz is dedicated to keeping fashion simple yet sleek because complex designs often mean discomfort for children. Moreover, kids' interest in fashion varies as much as a flag catching the wind, switching directions every so often. We're all about matching children's roving eye for fashion with a minimalistic approach that's always on the move to stay ahead of the times and their shifting interests.  The Benefits of ForeverKidz's Simplistic and Stylish Approach What is simplistic or minimalist fashion in the first place?...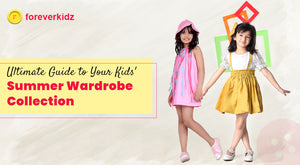 ---
With the summer season now taking over, we thought we'd put together some of the best summer dresses for baby girl families that will have your little one feeling and looking cool as well. Getting your sweetheart's wardrobe summer-ready in preparation for the warm weather can be challenging. There are so many options to consider, and, moreover, the season can be hard to dress for given the surge in not just heat but humidity as well. But we have just the selections that will help you crack the summer code with ease. Even amid summer, these gorgeous outfits will keep up the class and style regardless of the rising temperatures. Take a look: Juicy Mango Frock  Light-colored with a loose-fitting...
---
We as parents always want the best for our children. When it comes to picking the perfect outfit for your little one, it can be a very time-consuming task. It requires extra patience and extra attention when choosing kids designer dresses for your child. There are various factors to consider which can help you make your decision in picking a designer dress for your little one.  Fashion for kids means wearing clothes which they are comfortable in and can manage on their own. Picking such children's dresses will enable them to grow independently and assure that they can play without any wardrobe discomfort or malfunction indoors and outside. Thus, it becomes our responsibility as parents to buy kids designer dresses that are...