Some dressing ideas for your kid in this monsoon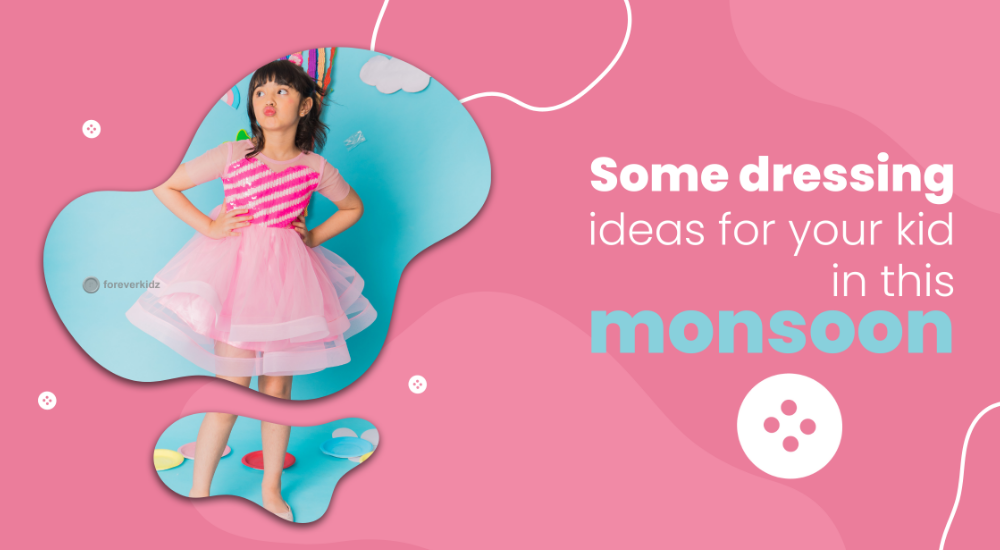 The monsoon season is here! This season brings with it much cheer after the hot and sultry summer. The rainy season is surely a delight, but with the incessant rain also comes the challenge of shopping for kids to dress your little one in this wet weather. 
Dressing up your kid in light and breathable fabrics is a must. Why? Because the humidity levels are at their highest during this season and it's important to keep the kids feeling cool and comfortable as they tend to sweat a lot. Fabrics like cool cotton should be a part of their monsoon wardrobe also ensuring that they are loose will make them the best option. Synthetic and clingy fabrics should be a no-no. Synthetic fabrics tend to cling to the little one's body making them feel very uncomfortable. Buy kids clothes online even for the monsoon season by following these tips and ideas.
1. Bright colors
Bright-colored outfits are a must for the season in your child's wardrobe! Bright colors make them feel energetic and happy in the bad weather. Your kids will light up anyone as they will look vibrant and beautiful on a cloudy day with grey skies. Kids online shopping is made more fun with Colours like green, blue, red, orange, yellow, and more that can get your kids to look like rainbows at the end of a gloomy day.
2. Fabric
Buy childrens dresses online for the monsoon season with the important goal of not getting them wet. It does not make any sense to ruin the clothes while you let them enjoy the rain. Materials like cotton come in handy during the monsoons as they are light and dry up easily. Otherwise, you can simply opt for waterproof outfits. They are essential and useful to protect them against rain.
3. Length
Shopping for kids during monsoons means ensuring that you dress your kids in outfits that are short so that it does not get wet. Therefore comfy shorts are the best option to look fabulous without getting them wet.
4. Waterproof Caps
Go for that funky and cool look by choosing to put waterproof caps and hats on them in dull and wet weather. They will look good and hats and caps go a long way in protecting them from the rain.
5. Waterproof footwear
Buy kids clothes online along with monsoon-friendly foot wears like gum boots, of different lengths that can be used to keep your kids' feet dry. Water washes off them easily as they are made of rubber. They last longer and come in a variety of fun colors with patterns. A pair of nice slippers or fun open sandals, like crocs, is the ideal footwear for this season. Yes! Your kids will look very cool in them.
Often, people associate the monsoon with gloomy and wet days where one just stays in the house. They cannot flaunt fashionable dresses and accessories. This is one of the reasons that most people hate the rainy season and parents do not allow their children to play outside during this season. Sadly this robs the children of the wonderful opportunity to play and learn about nature. Thus we have the above-mentioned list of fashion tips that you can follow while dressing your kids during the monsoon season. They will look fashionably cool without the fear of getting drenched in the rain. Buy children's dresses online for the monsoon season on sites like ours! Foreverkidz is soon bringing you a monsoon collection that will have you wanting more and will make you fall in love with monsoon fashion for your little stars.