Online Trendy Clothes for Kids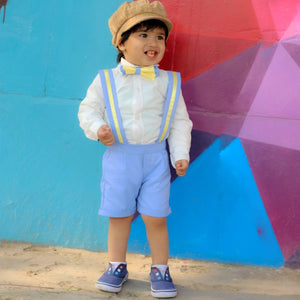 Little Delight Set
₹ 2,299.00
Prince Charming Set (with Bowtie)
₹ 3,299.00
Little Man Cute Set
₹ 1,699.00
ForeverKidz: WhereKids can be Stylish, Without the Hefty Price Tags!
We at ForeverKidz feel that fashion isn't limited just for adults. Our online store is committed to providing your little one with the most recent and Trendy Kids Dresses for Party. We offer various Online Trendy Clothes for Kids, from cute baby dresses to trendy ensembles for stylish tweens. Explore the beautiful world of Online Trendy Clothes for Kids by entering our virtual store.
Every Occasion, Every Style
We believe every child is unique, so our selection caters to a wide range of styles. Whether your child is a fashion-forward trendsetter or likes a more classic style, we have the appropriate clothing. From casual playdates to social gatherings, you'll discover a variety of Trendy Kids Dresses for Party that help your child stand out.
Quality That Matters
When it comes to choosing the best apparel for your babies, we focus on both: style and comfort. ForeverKidz strive to stitch every clothes with high-quality materials that are are soft on the skin and make sure cozy comfort throughout the day. We sew clothes from reputable craftsman known for their attention to detail, ensuring your kids looks and feel awesome like they are.
Keep Up With the Latest Trends Simple
Clothes is ever-changing, and our team of trend-spotters continuously looks for the newest fashions in children's clothing. We curate our collection to follow trends so your child's wardrobe is constantly current. Our outfits are made to create a stylish statement while being age-appropriate, with brilliant colours and entertaining designs.
Collaborations with Social Media Influencers
We believe in partnering with social media influencers that share our enthusiasm for children's fashion. Stay updated on exciting partnerships with prominent kid influencers by following us on social media. Thanks to these collaborations, we present you with memorable collections and limited-edition goods inspired by the fashion choices of the most fashionable little influencers. Dress your children in attire sponsored by their favourite social media stars and allow them to feel the excitement of being a part of a stylish group.
Fast and Reliable Delivery
We realize that when it comes to purchasing for children, time is critical. As a result, we endeavour to provide prompt and dependable delivery services. After you Buy Trendy Clothes for Kids from ForeverKidz, our committed staff will ensure that your item arrives on time, allowing your child to start wearing their fashionable new clothing immediately.
Get Your Little Ones Dolled Up
We are dedicated to offering parents a convenient and fun approach to outfit their children with the newest fashion trends at ForeverKidz. Our online store provides a one-of-a-kind range of stylish outfits that fuse design and comfort, guaranteeing that your children feel and look their best. We encourage you to join us on this trendy adventure as we are committed to quality, sustainability, and customer happiness. Explore our collection today and let your child's unique individuality show through their fashionable attire!