Explore the Different Styles of Girls Party Gowns: From Princess to Ballerina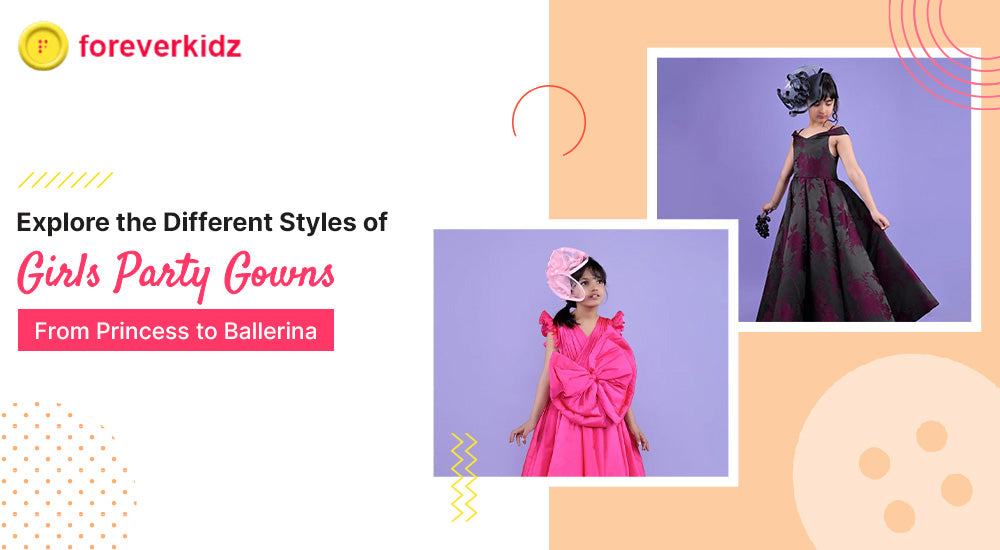 Different occasions call for different choices of luxury party gowns. To get your selection right, you need to think about the theme of the party, its formality, and other minute details such as color, comfort, and durability. With so many dresses to think about, it's easy to get overwhelmed. Hence, the purpose of our comprehensive guide today is to go through various little girls party gowns and the occasions for which they are perfect. We'll explore everything from princess to ballerina outfits to match every style interest. Let's get started. 
Princess-inspired Party Gowns
It's a poorly kept secret that little girls love princesses. These powerful women, usually from fairytales, personify courage, kindness, and true nobility. They prove inspiring heroines that most girls look up to, hence the desire to dress just like their favorite characters. 
If your little Darling loves the Frozen franchise, this selection of princess-inspired party gowns is sure to make her day: 
● Queen Elsa Dress
● Iceyland Princess
● Frozen Princess Tutu Dress 
Of course, don't forget to get the complementary Frozen Elsa gloves to top off any look that you go with from this list.
What's more, the Ocean Princess mermaid dress would also be a particularly ideal outfit for an aquatic princess theme party. Beyond this range, there are also other contemporary chic modern princess gowns for the little royalty of the 21st century. They include the Sugar Rush Tail Dress and the Bubblegum Candy Tail Dress. 
Luxury Party Gowns
Now let's build your honeybun's luxury party wardrobe. There are a ton of options to work with, depending on the nature of the party, your little sunshine's favorite colors, and her personal preferences. Of course, less is always more when it comes to picking out luxury gowns.
Solid colors are always a wise idea, albeit with a little touch of shiny or sparkly to add glam and uplift the look. Here are a few fabulous options to get you started: 
● Fairy Luxury Gown 
● Forest Grace Panel Gown
● Blueberry Ruffled Gown
If you're searching for a luxury birthday gown to make your cutie the star of the show, you'll need statement pieces that aren't common. Namely, go with the Abstract Mood Co-ord Set, Ice Candy Floss Tail Dress, or the Pink Toffee Gown. Anyone of them hogs attention and says extraordinary. 
 Mermaid Themed Party Gowns
Are you hosting a mermaid party for the kids or has your princess got an invitation to one? A mermaid gown dress for girls is the way to go. These outfits are a great way to match the tone of such a theme while helping little ones settle into their own little cozy paradise of fun and fantasy. 
A good tail is a basic minimum for the right mermaid dresses. Contemporary designs have different takes on the fishtail and incorporate modern twists that are playful yet practical. Here are a few great examples from ForeverKidz in this regard: 
● Ocean Princess Mermaid Dress
● Dream Mermaid Dress
● Mermaid By the Sea
● The Pink Mermaid Dress
● The Little Mermaid Dress
● Mermaid Party Gown 
But mermaid party gowns are not just for mermaid events. They can be just as classy and elegant for any high-profile or even playful kids' event your little mermaid is set to grace, namely proms, weddings, and sophisticated outings.
Modern Party Dresses
Party gowns for girls have come a long way over the past decade. Extravagant detailing, high-cut skirts, and ruffles in particular are taking over as the in-style fashion. However, the great thing about a modern gown dress for girls is that there's no limit to creativity.  You can go bohemian or remain conservative and your princess will still look just as awesome either way. 
Some popular choices today include fringe dresses and jumpsuits, which often have a delicate balance of easy, glamorous, and cool.  A few great options from the ForeverKidz store to that effect include the: 
● Swan Fringe Dress
● Flamingo Fringe Dress
● Forever Glam Party Jumpsuit
● Twinkling Dream Pant Set
● Forever Style Twist
If you're keen on a western gown for kids, the Party in LA Tunic Dress is as western as it gets. Your little diva will also look just as gorgeously Western in the Dreamy Victorian Elegance Gown and the Midnight Shimmer Ruffled Ball Gown.  
Ballerina-inspired Party Gowns
The tutu trend is in full gear this year. That may be because ballerinas are the practical equivalent of princesses in the real world. They are as close as the intersection of fantasy and reality ever gets.
Ballerina-inspired party gowns show that your little fashionista knows her style and exudes a classy and elegant persona. Moreover, the other great thing about a Ballerina luxury gown for girls is that it never runs out of style and works well for any body type.  They can also make for easy daytime wear when your little girl just wants to hang out with her friends.  
These vivid Ballerina dresses below are especially ideal for child parties and even semi-formal occasions as well: 
● Sweet Berry Ballerina
● Midnight Ballerina
● Rose Ballerina Dress
● Shelby Ballerina Dress
Would you love your cutie pie to step out in warm and unique fashion? You may find particular interest in the Honey Ballerina Tutu, a super sweet option for your most special person. The Unicorn Tutu Dress and the Marigold Bubble Tutu are also great choices for statement pieces at more serious tone events. 
Printed Party Outfits
Printed party gowns are often viewed as vintage, but they've aged like fine wine and claim a stake as a modern fashion statement. Casually stylish and timeless, stripes and polka dots are easy to pull off but remain elegant nonetheless. 
When going with a printed gown dress for girls, it's important to ensure print that doesn't overwhelm the backdrop. The look should feel simple and light, with white and black generally safe colors. However, feel free to experiment with a wider range of colors as long as it looks elegant, refreshing, and neat.
That being said, here are some excellent print party gowns that would make your little star the highlight of any party: 
● Wonder Stripes Playsuit
● Polka Party Mood Dress
● The Rain Pop Bow Dress
Additionally, the House of Polka Jumpsuit makes for fashionable and freeing print party wear that is ideal for any girl.
ForeverKidz - A fountain of Endless Style
ForeverKidz
is your one-stop store for everything that has to do with baby girl's fashion. Our range of party gowns covers every occasion, matches any fantasy, and most importantly, ensures the utmost pleasure and satisfaction for your cupcake. Explore our range of styles for luxury party gowns for little girls on our store today, and take advantage of our many discount offers.