---
Happiest of birthdays to your little princess as she turns a year older. Her special day certainly comes with a lot of expectations on your shoulders, and it's often a rush to try and read your angel's mind to make her happy. But you don't need to have special abilities to do that. You just need us to point you in the right fashion direction. If you're wondering how can I make my daughter happy on her birthday, picking out the best birthday dresses for girls is a great place to start. Your bundle of joy deserves a special dress on her biggest day, and if you're not sure how to style her up, consider our ideas for kids party...
---
Do you think that dressing according to one's zodiac is necessary? Absolutely! It makes dressing up all the more fun and in tune with your personality as well. Why not drape your little princesses in their favourite outfits that suit their zodiac signs? Guess the zodiac Their birthday falls between July 23rd and August 22nd and belongs to the Fire element. They tend to be warm, enthusiastic and so full of life. They are in charge of their own life and do not enjoy it when somebody tells them what to do. They are little boss-ladies. ''Born –free!'' is the motto that this zodiac lives by. It's easy to spot them in a room, as they are confident with a...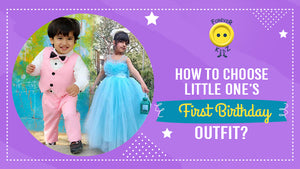 ---
The most exciting part of parenting is dressing up your little ones for their first birthday. There is nothing more attractive and appealing for a mom than planning and celebrating a baby's first birthday. At a kid's birthday party, the focus lies on picking the First Birthday Dress for your baby. Every parent wants their adorable kid to look the best on such a special occasion. Adults have a lot of outfits to try then why can't babies? You can go for something trendy and new instead of some regular outfits on their special day. When you are planning a party, the first question is 'From where to start?' The decorations, cake, gifts, guests, and most importantly, the cutest first...