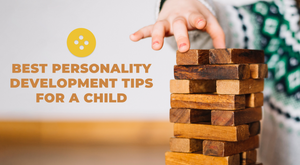 ---
Negative influences and long lectures are no way to raise a child. We are all well aware of the importance of personality development for kids. The upbringing of a child plays a huge role in moulding a positive attitude and an appealing personality. Hence, the best way of instilling confidence and positivity in your children is to promote positive personality qualities in everyday interactions with them. For example, even while looking through kidswear online with them. Everyone has a unique personality that shapes them to become the person they want. One's environment affects the development of a child as he/she grows up. This includes every other aspect of life, such as their homes, family members and educational institutions like schools...
---
The monsoon season is here! This season brings with it much cheer after the hot and sultry summer. The rainy season is surely a delight, but with the incessant rain also comes the challenge of shopping for kids to dress your little one in this wet weather.  Dressing up your kid in light and breathable fabrics is a must. Why? Because the humidity levels are at their highest during this season and it's important to keep the kids feeling cool and comfortable as they tend to sweat a lot. Fabrics like cool cotton should be a part of their monsoon wardrobe also ensuring that they are loose will make them the best option. Synthetic and clingy fabrics should be a...
---
Summer is here and so is the fashion game for the tiny ones! Summer calls for the sweet smell of ice cream, the touch of the warm breeze brushing against the skin, and the trendiest fashion for all. With all the sunshine, warmth, and playfulness around, kids want to enjoy every moment of the summer; your responsibility is to keep them comfortable and protected, with the right kind of kids' wear for summer. When it comes to online shopping for kidswear in India, there is only one place-Foreverkidz! Foreverkidz has listed below some of the children's summer fashion trends for 2022: 1. Bright colors The summer days are always sunny with a crisp breeze, so light and bright colors are a...